In this post, you may know how to get a large bonus without deposit from the famous forex broker Forexmart in 2023. Besides this, I'd like to give you an actual Forexmart review with all the most important nuances of their platform (history, account types, trading instruments, bonuses, forex contests, licenses, copy trading platform, deposit and withdrawal options, etc).

Forexmart no deposit bonus
As of today, in 2023, new traders can get from Forexmart withdrawable
no deposit forex bonus
of up to $ 300 (I did not understand how they define the amount of the bonus). So, the process of getting this free forex bonus is next:
1. Click on the Forexmart banner and go to the official site of broker: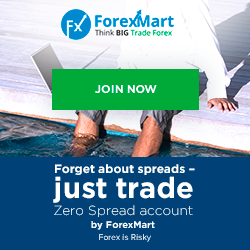 2. On the main page of the official broker's site click on the "Register" button in the upper right corner or on "Open trading account" on the center of the screen: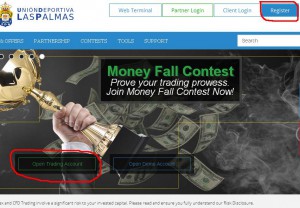 3. On the next page, enter the email for registration, last name, first name and click on "Submit":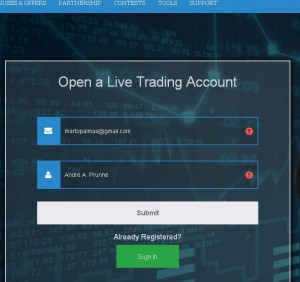 4. On the new page fill in the form carefully with the required personal data, check information and click on the "Next" button: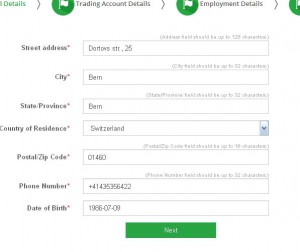 5. On the new page, you will need to choose the type of Forexmart trading account which you wish to open, fill information about your existing trade experience and financial instruments with which you are familiar. Also you should confirm that you understand the risks of trading in the high-margin markets. After all click on the "Next" button: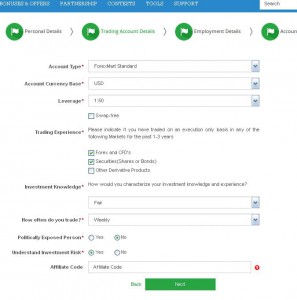 6. On the next page, you will need to fill out the information about your professional employment, education, income level and US residency. I suspect that the information from this page and the preceding page will be the basis for calculating the size of the Forexmart no deposit bonus. After putting all the required information, click on "Next":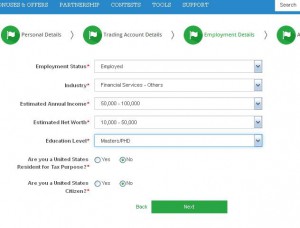 7. At the final stage of registration Forexmart bonus account, you will need to upload a color copy of your international passport or national I.D. card or driving license and color copy of proof of residence (utility bill dated within the last six months, current local authority's tax bill, credit card statement) to verify your personal information and confirm your account. In principle, the color copies can be downloaded later via special menus in the user's area via the official broker's site. However, downloading color copies during the registration stage will accelerate the process of verification and confirmation of the Forexmart free no deposit bonus. Do not forget to put a tick in the bottom checkbox, as confirmation that you have read and understood the entire text of the Customer Agreement and Privacy Policy: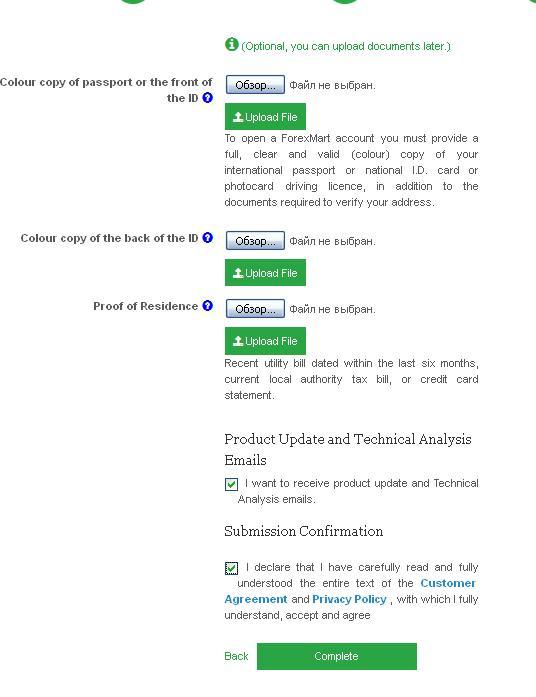 8. Registration has completed and you will be redirected to the client's area at Forex mart. On the left side of the window you may see the list of options. If you have not yet downloaded the copies of your documents for verification, you can go to the appropriate "Verify Account" section for downloading of your docs: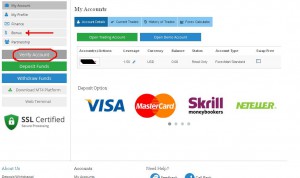 9. To receive the free bonus money to the trading account balance you need to click on the left side on the "Bonus" section and get into the bonus section: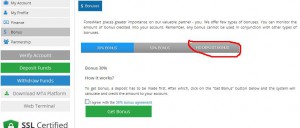 !!! If you have not downloaded the documents for verification, it can be done through the relevant section of the broker's website. Without verification the $300 nondeposit bonus will not be available.
In the center you'll see the available bonuses. You need "No Deposit Bonus", so click on that option: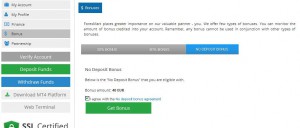 As you can see, I will be credited with only 40 euros as a nondeposit welcome bonus. Apparently, a small income and a small experience of trading played a negative role in the calculation of the available bonus amount. Place the tick in the checkbox to confirm your consent to the terms of the "No deposit bonus agreement" and press the green button. That's all. You should wait for confirmation from the broker, check the balance, download the terminal and you can start your trading.
10. By the way, all information, which you use to login Forexmart site and for access to the trading account, will be sent to your registration email. Do not forget to save these data. I do a screenshot of such letter and save it on the flash drive or the computer's hard disk usually: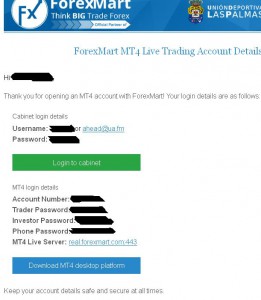 11. A few words about the conditions of the Forex mart bonus $300 offer for those who don't read usually what forex brokers write. Here are a few important moments:
– The bonus is only available for accounts that have passed the verification procedure
– Maximum Leverage – 1:200
– Bonus can be withdrawn only after closing all deals. The client's turnover must be equal to X*2,5 market lots, where X is the total amount of received bonuses
– To withdraw forexmart no deposit bonus money from your account, you must send your request to the address bonuses@forexmart.com
– Profit from trading on the bonus money can be withdrawn only if it exceeds 20% of the bonus amount. Profit exceeding 20% is available for withdrawal.
12. So, now you know how to get a no deposit bonus from Forexmart in 2023. To withdraw your money from broker Forexmart or to fund deposit to your trading account you may use different payment methods.
Forexmart history, licenses
Forexmart is currently a well-known Spanish forex broker for trading and investments (via copy trading platform) with a large number of trading instruments. The broker operates under the brand name Tradomart SV LTD, a company registered under registration number 23071, IBC 2015, with a registered office at Shamrock Lodge, Murray Road, Kingstown, Saint Vincent and the Grenadines. The broker's financial services are provided through Finateqs Corp, a company incorporated under the laws of Belize under registration number 137723 IBC 2019. Finateqs Corp provides investment and other ancillary services to its clients through the Forexmart trading platform with license number 000160/344 issued by the FSC of Belize.
Forexmart is authorized and regulated in various jurisdictions, which strengthens its reliability. It is registered with the Autorite de Controle Prudentiel et de Resolution (registration number 75426) and the Bundesanstalt fur Finanzdienstleistungsaufsicht (registration number 146395). In addition, the broker is registered with the Financial Conduct Authority (registration number 728735). In addition, Forexmart has been authorized by the Cyprus Securities and Exchange Commission (CySEC) under the number 266/15.
The company's dedication to sports partnerships is evident through its sponsorship agreement with HKM Zvolen, a renowned Slovakian ice hockey club. This cooperation further strengthens Forexmart's list of partnerships with elite sports teams, which previously included the famous Spanish football club Las Palmas.
Forexmart account types
ForexMart offers a wide range of live trading accounts suitable for different trading strategies and trading systems:
The Classic account has a minimum spread of 1 pip and an average spread of 1.2 pips with no commissions. This Forexmart account minimum deposit is required 15 dollars and the minimum lot size is 0.01. Orders are executed at the current market price.
For more advanced traders, the real Pro account offers a minimum spread of 0.6 pip and an average spread of 0.8 pip, also with no commissions. To open a Real Pro account, a minimum deposit amount of $200 is required and the minimum lot size for this account type is 0.01.
For those who want to trade smaller volumes or are just starting out, the Cents account type has a minimum spread of 1 pip and an average spread of 1.2 pips, just like the Classic account. However, the minimum lot size is 0.1 (cents lot) on this account type. To start trading, traders need to make a minimum deposit of 15 USD.
Traders looking for ultra-low spreads can open a Zero Spread account (Islamic Account), which offers a minimum spread of 0.0 pip and an average spread of 0.2 pip. But, this account type applies a commission of $6. The minimum deposit on this trading account is $500 and the minimum lot size is 0.01.
It is important to note that the maximum leverage for Classic, Cent, and Pro accounts is 1:500, and for Zero Spread accounts it is 1:200. In addition, the margin call and stop out levels are set at 30% and 10% respectively. Traders can have a maximum of 500 open orders with a lot size of 10,000.
ForexMart's different account types are suitable for traders of all levels, making this broker a popular option for those looking to start trading forex or expand their trading portfolio.

How to fund your Forexmart trading account?
ForexMart offers a number of convenient deposit methods to fund your trading account. On the positive side, the broker offers essentially free deposits, ensuring that clients can start trading without additional fees. However, it is important to keep in mind that some payment processors may charge their own fees for their services.
Available options for funding a ForexMart trading account include:
Credit/Debit cards (Visa, MasterCard):
No fees.
Deposits are processed within 24 hours.
Skrill:
No fees.
Deposits are processed within 24 hours.
Neteller:
No fees.
Deposits are processed within 24 hours.
PayCo:
Instant deposits.
FasaPay:
Instant deposit.
BTC (Bitcoin):
Deposits are processed within 24 hours.
BHC (Bitcoin cash):
Deposits are processed within 24 hours.
USDT (Tether):
Deposits are processed within 24 hours.
Local banks (AmBank Group, BANK ISLAM, CIMB, HongLeong Bank, Maybank, PUBLIC BANK, RHB Bank):
Deposits are processed within 24 hours.
It should be noted that some payment options at Forex Mart may not be available depending on the client's region.
Forexmart available withdrawal options
ForexMart guarantees smooth and efficient withdrawals for its clients by offering various withdrawal options according to individual preferences. It is important to note that withdrawal fees may vary depending on the payment method chosen.
Here are the available options for withdrawing funds from ForexMart:
Credit/Debit Cards (Visa, MasterCard):
Processed within 48 hours.
Skrill:
System fee: 1%.
Processed within 1-7 working hours.
Neteller:
Transaction fee: 2%, min fee: 1.00 USD, max fee: 30.00 USD.
Processed within 1-7 working hours.
PayCo:
Processed within 48 hours.
FasaPay:
Processed within 48 hours.
BTC (Bitcoin):
Transaction fee: fixed fee 0.0002 BTC + fixed fee 2 USD.
Processed within 48 hours.
BHC (Bitcoin cash):
Transaction fee: fixed fee 0.001 BCH + fixed fee 2 USD.
Processed within 48 hours.
USDT (Tether):
Transaction fee: 1%.
Processed within 48 hours.
Local Banks (AmBank Group, BANK ISLAM, CIMB, HongLeong Bank, Maybank, PUBLIC BANK, RHB Bank):
Transaction fee: 3%.
Processed within 24 hours.
Forexmart trading conditions
ForexMart offers a sufficient choice of trading platforms and a wide range of trading instruments.
The broker's main trading platform is the popular MetaTrader 4 (MT4) system. MT4 is known for its reliability and user-friendly interface, making it the preferred choice for traders around the world. Forex Mart clients can use MT4 for trading on their computers, laptops, as well as Android and iOS mobile devices around the clock.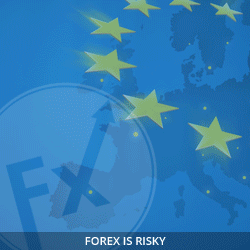 The ForexMart mobile app is designed to provide stable trading opportunities and offers access to charts, accounts and other important services. It is available for free download on both the App Store and Google Play.
MetaTrader 4 for Desktop is another powerful tool offered by ForexMart, allowing traders to monitor multiple charts, place and manage orders directly on the chart, and customize the interface according to their preferences.
ForexMart's web terminal allows traders to trade directly from their browser without installing any software. Traders can securely access their accounts and get synchronized data across all platforms.
In terms of trading instruments, ForexMart boasts a variety of over 100 options. In addition to a large selection of Forex currency pairs, customers can trade cryptocurrencies, CFDs on stocks, spot metals, energy and popular indices. This wide selection allows you to diversify your portfolios.
ForexMart partners with reputable liquidity providers such as Barclays and HSBC.
Frequently Asked Questions
How to contact the broker?
You may contact them in some ways:
online chat on the official website theforexmart.com;
Email: support@theforexmart.com
Phone: + 442 030 976 697
Skype: support_forexmart
Facebook: */forexmartofficial
What is the minimum deposit for Forexmart
The required minimum deposit at Forexmart is $15. The previous sum of the minimum deposit was only $1.
Forexmart client/partner login
Some clients have difficulties when authorizing on the broker's website. The problem is caused by the separation between Forexmart client login and partner login.
To sign in to your ForexMart account, you can do it directly from the broker's main web page. Simply click on the "Login" button in the upper left corner on the official website Forexmart, select "Client login" or "Partner login" as your account type, then enter your account number and your password.
CopyTrading at Forexmart
If you are new to trading or do not have enough time, then you can benefit from the experience of professional traders. At ForexMart you can
earn money by copying trades
of successful traders.
Copy-trading or copying trades is a convenient system that allows you to follow the trades of experienced traders without much effort.
With the ForexMart CopyTrade system, orders opened by the trader of your choice are automatically copied to your account in real-time. These transactions are visible both on the trading platform and in your personal account, giving you full transparency and control over your investments.
How to start earning from copy trading:
1. Register and open an account with ForexMart.
2. Select one or more traders and define the copying conditions.
3. Start the copying process and track transactions online.
Good luck in trading!