FBS no deposit bonus $123 (instruction)
3
Today, let's consider the example of how to get a bonus of $123 from forex broker FBS. FBS is a well-known brokerage firm, which operates on the trading market during many years, with lots of positive feedback. The promo with welcome bonus 123 dollars they have been held for several years. Some years ago, I wrote in my blog about $5 no deposit bonus from forex broker FBS. For now(from current year), all new traders will be able to get from FBS free as a no deposit bonus worth 123 dollars. It is much more attractive than $5. So let's look at how to get the bonus and on the conditions under which it could be issued. Such kind of instructions are needed because the interface of the official broker's site does not support of all popular languages, and new traders may have problems in the process of registration the account or FBS 123 bonus claiming. So, let's start from first steps – registration new client and opening the bonus account:
1) Go to the official site by clicking on the broker banner: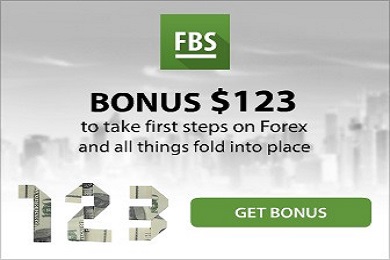 2) On the main page you will see the button «Open account». So, click on it to open free FBS bonus account. Look at the screenshot: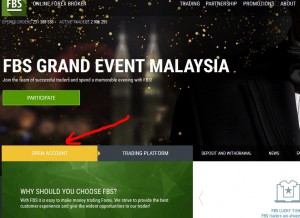 3) On the form that appears, select the FBS account type «Bonus $123″, input your name, your email address and click the checkbox as a confirmation of your consent to the terms of the user agreement with broker (the desired fields are highlighted in red). Then click on the green button «Open an account»: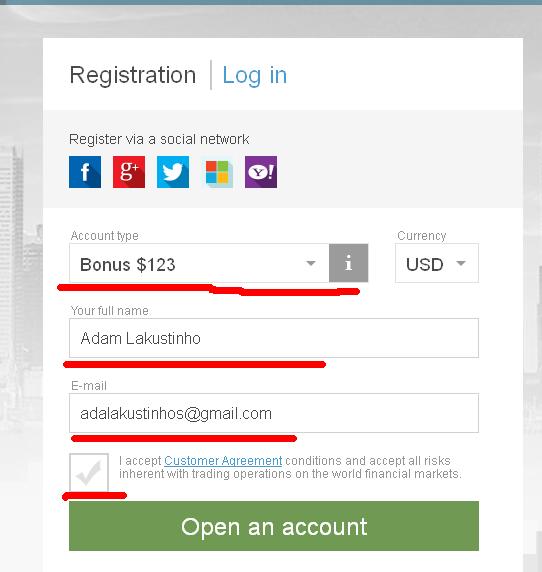 4) You will see a window with a temporary password to access your fbs bonus account, and the proposal to change the password. Enter the password convenient for you and click on the button «Change password»: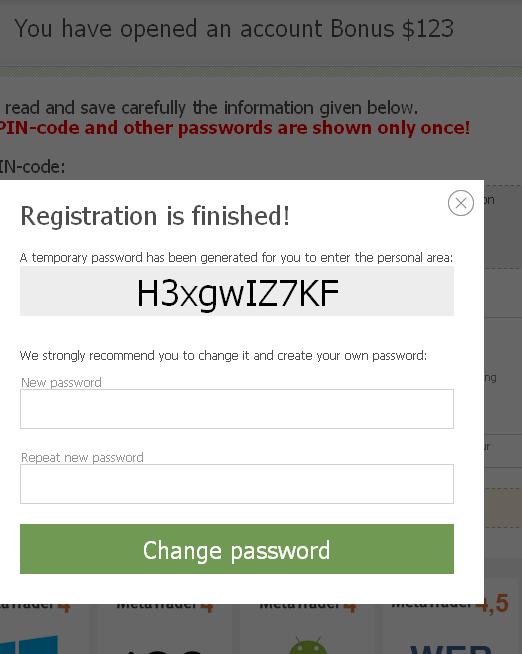 After confirming the change of password, you will see a page with your passwords, account numbers, PIN. These data need to be saved as they required for further work. Usually I do a screenshot of such information and save it on computer drive + make a copy on a USB flash drive: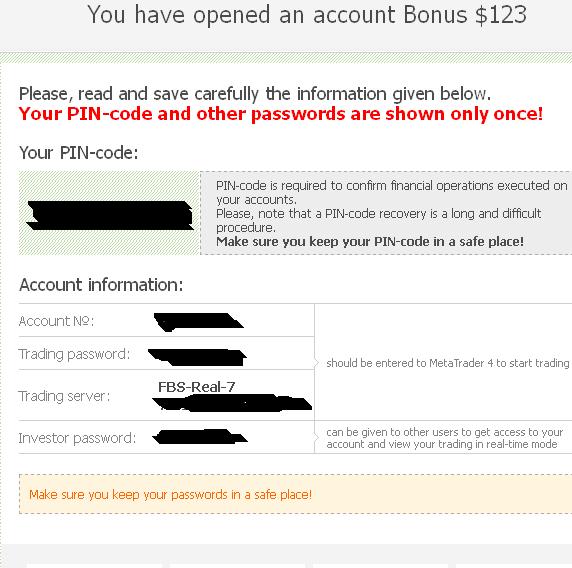 By the way, I almost forgot about the important moment. When you have already registered and you are ready to login FBS account, you can change the interface language to your preferred in the upper right corner. Do not forget about this:

4) After saving the account's access data, you may login to account and go to the settings. To do this, scroll to the bottom and click on the text (on the screenshot in red):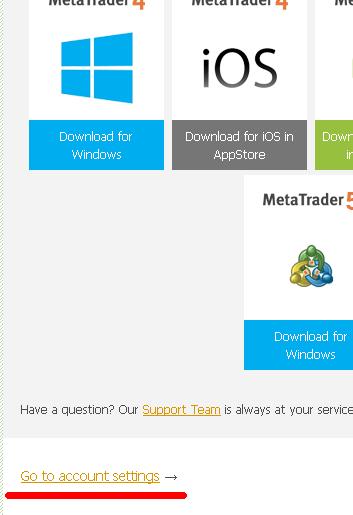 5) In general, free FBS $123 no deposit bonus is already at your account balance, as you can see: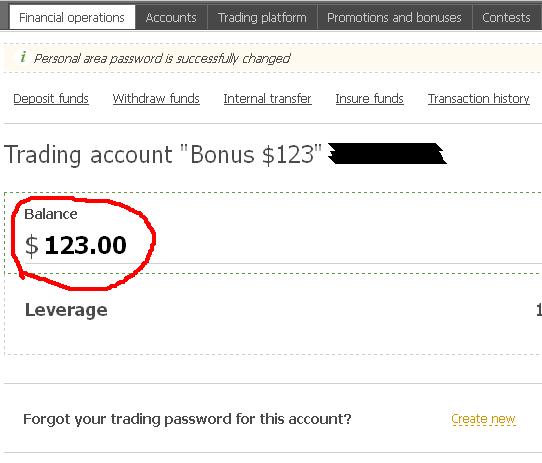 But, there are still some nuances:
– You need to fill out a code word for communicating with the support of the broker

– You need to pass verification of your personal data at FBS, as other reliable forex brokers require.:

To verify the email you will need to open a mailbox, specified when opening an account. There will be some letters from the FBS. The first letter contains welcome text and a link to confirm your email: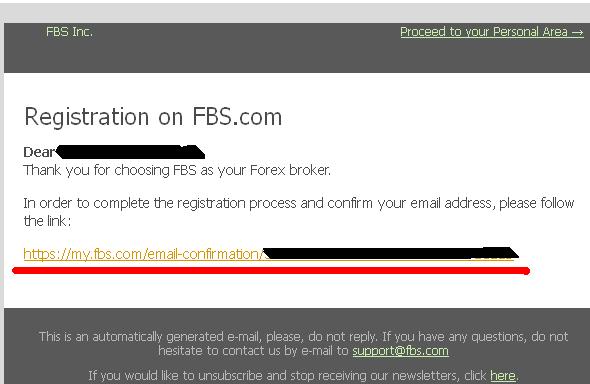 Click on the link and email will be confirmed.
To confirm the phone number you will need to click on the phone icon in the box that appears to select your country code, enter the phone number and press the green button: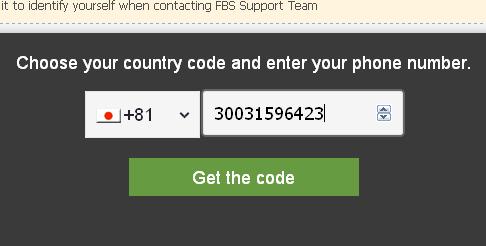 In some minutes you will receive an SMS with a verification code from broker, which should be put in the box that appears on the page.
Now you only need to confirm your identity. To do this, click on the corresponding icon above the text "Confirm identity":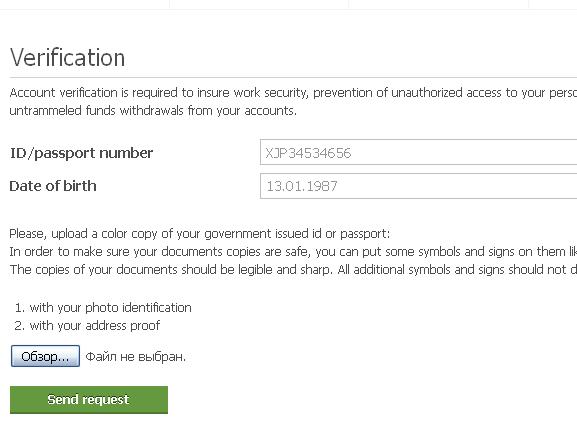 On the next page, it will be necessary to enter the number of the loaded document and date of birth. Please note that they require a color scan or photo of documents.
That's all. You only need to download the appropriate version of Metatrader for your gadget, login bonus account and trade.
Oh, yes. Several important nuances of this no deposit bonus from FBS:
– The bonus money is credited immediately and available for work within 7 days after the opening of bonus account
– You may withdraw only profit
– Shoulder is 1: 2000
– After 7 days your bonus account balance will be reset, account type will be changed to «Unlimited». The amount of your profit will be displayed only on the page at «my.fbs.com/bonus/bonus123″
– To withdraw this profit, you need to execute condition for trade turnover: for every 1 lot traded by you, you can withdraw $3 of bonus profit. Deadline for withdrawing of the bonus profit is absent.
6) How to withdraw money from FBS 123 bonus or other earnings, if you'll do it. They have many different channels for money withdrawal. Trader may choose the most suitable methods among Visa/Mastercard, Neteller, Skrill, PerfectMoney, Okpay, Wire Transfer, Laoforexboard, Myrtc, Zaw forex service, Sahibexchange and other. If you need to know how to deposit money to FBS account, then you may try to use bank cards, bank wire transfers, skrill/neteller.
Good luck in your trading!
I hope these articles will be useful for you too:
If you liked my post, then you can easily subscribe on blog updates via RSS or via e-mail: