Some time ago I told you about new $100 FBS bonus. Today I'd like to tell you about the new trading application for mobile from this broker – FBS Trader app. Using this app, you will get all-in-one trading platform app with full access to the all important trading instruments at your smartphone. You may download the IOS version via this link.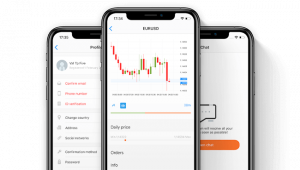 To install this application you will need only 75 Mb at your smartphone. Of course, you may ask why not to use usual Metatrader 4 or 5 for mobile? Yes, you may download MT4 or MT5 for your Android/IOS here. So, you may compare MetaTrader and FBS trader. Or you may simply read my review and make your choice without installing anything.
What inside?
FBS team analyzed the main functionality of standard Metatrader and saved for their own product only the most crucial functions and options. After that they produced something like Metatrader, but much simpler to handle. Let's see, what inside this product:
1. You may use for trading about 50 main currency pairs and metals
2. All price information is in real-time
3. It has a very simple interface for easy management of trading and account settings. For example, the user only needs to tap to set up his portfolio or start copying traders.
4. All orders in mobile application have enough information: contract type, volume, Ask/Bid prices, take profit and stop-loss options.
5. You may deposit and withdraw money via app.
6. You may choose an interface on any of further languages: English, Arabic, Burmese, French, German, Indonesian, Italian, Japanese, Korean, Malay, Portuguese, Simplified Chinese, Spanish, Thai, Turkish, Urdu, Vietnamese.
But, of course, FBS Trader has current problems. The main of them are:
1. Currently, it has only the IOS version. For Android you may use only old usual MT for mobile.
2. You can't make via application pending order and locked position.
As for me, it's an interesting trading application. If you are trader at FBS and have iPhone, iPad and iPod touch with iOS 10.0 or later, then you may download the application from App Store and try it.
Good luck.