I would like to recommend you a reliable forex broker XM, both for regular trading with your own funds and for getting an attractive $30 no-deposit bonus for new traders. To help you make an informed decision on whether to sign up and open the XM trading account (regal or with a bonus offer), I have prepared an actual 2023 XM review, in which you will know about the origins of this forex broker, regulated licenses, trading accounts types, depositing XM account and withdrawal options, bonus and other promotional offers, trading platforms, and much more. By the way, I have added their offer to my regularly updated list of free forex bonuses, where you may also find many free other offers from different brokers all over the world.

Available XM bonuses
In 2023 the broker offers some interesting bonuses for new and old clients. Some of these bonus offers are available without account funding, but for some attractive offers, you should deposit your account before claiming the offer.
XM no deposit trading bonus
XM offers an enticing opportunity for new customers with a $30 USD trading bonus without a deposit. By simply opening your first XM real account, you will receive a credit of $30 or equivalent in other currencies such as EUR, GBP, CHF, JPY, AUD, PLN, HUF, SGD, ZAR, THB as a bonus that cannot be withdrawn. This bonus offer allows you to start trading with real funds without making an initial deposit, giving you a risk-free experience of trading. Please, note that the XM no-deposit trading bonus is not available in all jurisdictions, but it's available in the South African Republic, Thailand, Japan, Singapore, Australia, etc. So, hurry to claim it before it's not too late.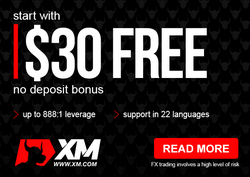 The free trading bonus can be claimed by all new customers without making a deposit. What's even better is that all profits made from trading with the bonus can be withdrawn from XM. Once you receive the bonus, it will be instantly credited to your account and can be used for trading purposes.
In order to withdraw the profit, you must fulfill certain conditions. In particular, you must trade a minimum volume of 10 micro-lots (or 0.1 standard lots) on the respective live trading account and make at least 5 round turn trades. You can check the number of lots traded and round trades on the "Account History" tab of your XM personal cabinet.
The no-deposit forex bonus is available for 30 days from the date of opening an XM trading account. It is very important to get the bonus within this time period as it will become unavailable after 30 days.
To receive the XM free forex Bonus, follow these simple steps:
1. Open the XM real account.

2. Fill out the XM registration form in Latin letters.

3. Log in to the Members Area using the credentials provided.
4. Provide the necessary identification documents to verify your account (if not already done before).
5. Click the "Get Bonus" button.
6. Complete the phone number (SMS) and/or voice verification process as outlined in the Members Area.
Please note that withdrawals from your real account will proportionally remove previously accrued trading bonuses based on a percentage of the requested withdrawal amount. This ensures a fair and transparent process of removing the free forex bonus in case of withdrawal.
Overall, XM's no-deposit trading bonus is a fantastic opportunity for new traders to explore the real trading environment without any financial risk. So, open your XM real trading account now and take advantage of this exclusive offer to start your trading.
XM deposit bonus
The XM deposit bonus offered is a fantastic opportunity for eligible clients to increase their trading capital with generous bonuses. It consists of two tiers, providing a 50% bonus on first or subsequent deposits, up to a maximum of $500 per client, and a 20% bonus on any subsequent deposits, up to a maximum of $4500 per client. In total, clients may accumulate a maximum of $5000 in trading bonuses or the equivalent in other currencies.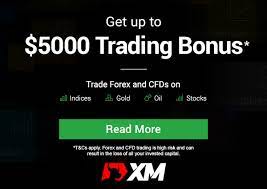 To participate in the Deposit Trading Bonus Program, clients must open an XM real account and meet the established criteria. Accrued deposit bonuses are for trading purposes only and cannot be withdrawn. However, all profits earned from trading using the deposit bonus can be fully withdrawn.
As clients withdraw funds from their accounts, trading bonuses will be withdrawn proportionally based on the percentage of the requested withdrawal amount. This ensures a fair and transparent withdrawal process.
To illustrate how this works, consider an example where a client deposits $1000 and receives a 50% bonus ($500), resulting in a total balance of $1500. If the customer decides to withdraw $250 (25% of $1000), then 25% (25% of $500) of the bonus will also be removed, leaving the customer with a balance of $1125.
The XM deposit bonus program is automatically available to all customers who deposit funds into their trading accounts, allowing them to take advantage of the bonus offer until they reach the maximum bonus amount of $5000.
Overall, the XM Deposit Bonus provides traders with a great opportunity to improve their trading performance, increase their trading profits and explore the financial markets with more confidence.

Who is broker XM?
So, what do we know about broker XM in 2023? Established in 2009, XM.COM is a renowned forex and CFD broker that provides industry-leading financial services to clients worldwide. Over the past 13 years, XM has established itself as one of the leading players in the market by offering real-time execution in various Forex and CFD markets. XM Group, which is the umbrella brand name of Trading Point Holdings Ltd, operates several regulated CFD and forex brokers such as XM UK, XM Australia, XM Cyprus, and XM Global, among others. Trading Point Holdings was founded in 2009 by some financial market experts from Cyprus. In 2010 they started working with clients. Each subsidiary organization adheres to strict regulatory standards set by the respective regulatory bodies, further enhancing XM's reputation for corporate business ethics and transparency.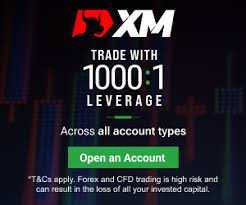 Providing instant access to more than 1,000 trading instruments, including Forex, Cryptocurrencies, Individual Stocks, Commodities, Precious Metals, Energies, and XM Equity Indices, forex broker offers its clients a convenient trading experience with no re-quotes or rejections. Traders can choose from a variety of trading account types to suit their personalized trading style, and XM's technology and multilingual support serve a huge number of clients from 196 countries in over 30 languages.
XM's commitment to excellence is reflected in its world-class infrastructure and extensive educational resources, making it the broker of choice for traders of all levels. The company's efforts in 2023 have been recognized with multiple awards, including "Most Trusted Broker", "Most Transparent Broker" and "Best Customer Support" from CFI.co.
As a customer-centric broker, XM prioritizes transparency and integrity. They offer more than 25 secure ways to deposit and withdraw money from an XM account, and personalized account managers to assist traders with their trading and investments. For years now, XM has continued to be the top choice for forex traders around the world.
XM does its best to incentivize its clients with various forex bonuses. Traders have the opportunity to receive both welcome no-deposit forex bonuses and XM deposit bonuses. For those who are just starting out, XM offers no deposit forex bonuses so that they can familiarize themselves with the platform and the markets without risking their own funds. On the other hand, deposit bonuses are given to customers based on the amount they deposit, giving them additional trading opportunities. In addition, XM provides its clients with special seasonal bonuses for certain calendar events and occasions available for a limited time. The broker also offers exclusive invitation-only bonuses, giving select clients unique opportunities to maximize their trading potential.
XM also regularly holds forex competitions and contests with real cash prizes, as an additional incentive for traders to test and demonstrate their skills. In addition, XM provides its clients with free VPS services, ensuring uninterrupted trading without any interruptions, especially for those who use trading advisors or automated trading strategies.
Is XM regulated?
Trading Point Holdings Limited (XM Group) manages several regulated entities, ensuring that the highest professional standards and strict regulatory requirements are met:
XM UK is one of the wholly-owned entities of Trading Point Holdings Ltd, authorized and regulated by the Financial Conduct Authority (FCA) of the United Kingdom under registration number 705428.
XM Australia holds an Australian financial services license issued by the Australian Securities and Investments Commission (ASIC) under registration number 443670.
XM Global Limited is regulated by the Belize Financial Services Commission (FSC) and has a securities services license number 000261/397.
Trading Point MENA Limited operates under the authorization and regulation of the Dubai Financial Services Authority (DFSA) with reference no. F003484.
Trading Point Asset Management Ltd is authorized and regulated by the Cyprus Securities and Exchange Commission (CySEC) under license no. 256/14.
Trading Point of Financial Instruments Ltd, regulated by CySEC under license number 120/10, is also registered with the UK Financial Conduct Authority (FCA) under registration number 538324. The company operates under the Markets in Financial Instruments Directive (MiFID) of the European Union.
Trading.com Markets Inc. is regulated and registered with the Commodity Futures Trading Commission (CFTC) and is a member of the National Futures Association (NFA #0516820).
XM International (BS) Limited is a Securities Dealer Licensee regulated and authorized by the Securities Commission of The Bahamas (SCB) under license number SIA-F201.
Through these extensive regulatory licenses, XM ensures the security and transparency of its financial services, maintaining its world-class reputation for safe business conduct.

XM account types
Forex broker XM offers several types of live trading accounts that will satisfy the needs of any trader. There are Islamic trading accounts in the lineup as well. Let's take a closer look at each type of trading account:
All account types give traders the opportunity to trade through the popular MT4 and MT5 platforms and connect trading with Expert Advisors. You can start your trading via XM with a $5 minimum deposit to the account balance. On the XM platform, traders can enjoy the flexibility of trading both micro and standard lots and benefit from competitive spreads and negative balance protection, ensuring a safe and profitable trading experience. You can start your trading via XM with a $5 minimum deposit to the account balance. How to deposit the XM account you may know below in this review.

Deposit and withdrawal options
You have a number of convenient ways to deposit and withdraw funds from your XM trading account. Available payment methods include Visa and MasterCard, Skrill, Neteller, WebMoney, Perfect Money, SticPay, and international wire transfer. Please note that the available methods may vary, so it's always best to check the relevant section of your XM personal cabinet.
When it comes to withdrawal funds from the XM account, the broker provides a smooth process. Thanks to an advanced Artificial Intelligence Back Office System, withdrawal requests are processed instantly based on algorithmic parameters. This means that you can get your money immediately or on the same day when your request is fulfilled. For XM withdrawals made via international wire transfers, credit or debit cards, it usually takes 2-5 business days for funds to reach your account.
To ensure convenience for traders, XM matches the withdrawal currency with the deposit currency. In case of any mismatch, the broker automatically converts the amount at the prevailing average exchange rate.
The good news is that in most cases, XM does not charge withdrawal or deposit fees. However, it is important to know that a fee may be charged if you use international bank wires with amounts over $200 or equivalent during the deposit or withdrawal process. Please note that commission policies are subject to change, so it is advisable to stay up to date with the latest information.
Overall, XM provides its customers with efficient payment options, offering several ways to both deposit XM accounts and withdraw funds from them without any additional fees, except in the special cases mentioned above. This ensures that you can focus on your trading strategies or investments without any unnecessary financial costs.
XM trading platforms and instruments
Platforms
XM offers traders a variety of trading platforms to meet their needs. Traders can access these platforms by downloading Windows or Mac applications, and opening browser-based web applications or mobile applications for smartphones.

XM offers two main families of trading platforms: the MT4 family and the MT5 family. The MT4 is known for its fast execution and lack of requotes, offering flexible leverage from 1:1 to 1000:1. Traders using MT4 have access to micro-lot accounts, spreads as low as 0.6 pips and the ability to trade more than 1000 instruments, including CFDs on cryptocurrency.
On the other hand, the XM MT5 is ideal for those who want to trade multiple assets. It includes all the features of MT4 but adds 300 CFDs on stocks (Shares), making it suitable for trading Forex, CFDs on stocks, cryptocurrencies, gold, oil, and Equity Indices. Similar to MT4, MT5 offers a range of trading options and has no rejections or requotes.
Both MT4 and MT5 platforms are available on a variety of devices including PC, Mac, iPhone, iPad, Android phones, and Android tablets. Clients are free to choose the platform that matches their preferred assets to trade. For traders interested in multiple asset classes, the MT5 family of platforms, including XM WebTrader, is recommended.
The significant difference between MT4 and MT5 lies in their asset offerings. While MT4 is primarily designed for forex trading, MT5 expands its scope to include cryptocurrencies, stocks, stock indices, metals, and energy, providing a wider range of trading opportunities.
Moreover, XM supports mobile trading across all its platforms, allowing traders to access their accounts and execute trades on the go. Instructions on how to access the mobile platforms can be found on the relevant pages of the XM official website.
In conclusion, XM provides a wide range of trading platforms, each suitable to different trading preferences. Whether you choose the MT4 or MT5 family of platforms, you can wait for seamless execution, no rejections, and access to a wide range of financial instruments for your trading.
Trading instruments
XM traders can use for trading more than 1000 trading instruments grouped into 9 asset classes:
Forex Trading
50+ currency pairs, including majors, crosses, and exotics.
Leverage up to 1000:1.
24/5 market availability, providing ample trading opportunities.
Tight spreads and no re-quotes, ensure seamless execution.
Zero swaps on Ultra Low Accounts, making it cost-effective.
Cryptocurrencies Trading
Trade 24/7, allowing flexibility and continuous market access.
Leverage of up to 1:500, maximizing trading potential.
Going short or long based on market moves, capitalizing on price fluctuations.
Attractive investment alternative alongside forex trading.
Tight spreads and no re-quotes for swift execution.
Stock CFD Trading
Direct access to global equity markets without ownership of the physical stocks.
No commissions for trading CFDs on stocks, reducing costs.
Speculation on market uptrends and downtrends, catering to diverse strategies.
Option to trade fractional shares for added convenience.
Turbo Stocks Trading
High leverage of up to 1:200, enabling enhanced exposure.
Access to popular stocks with volatile intraday movements.
Ability to speculate on market uptrends and downtrends.
Lower spreads and no extra fees, providing cost-effectiveness.
Commodity Trading
Trade on global economies without owning the underlying instrument.
Speculate on future market price movements.
Suitable for beginners due to low deposit requirements.
Opportunity to go short and benefit from falling prices.
Gold and Precious Metals Trading
Trade gold and silver without re-quotes.
Leverage up to 1000:1 for potential amplification of profits.
Opportunity to go short or long with the same account.
Zero swaps on Ultra Low Accounts, enhancing cost-efficiency.
Oil and Energies Trading
Capitalize on high volatility and greater price movements.
Trade the most actively traded commodity – oil.
Flexibility to go short or long based on market moves.
Low margin requirements, starting from 5 USD.
No overnight financing fees for oil CFDs.
All these trading instruments are available on the MT5 platform, offering convenience and a user-friendly interface. Depending on the account type selected, the instruments are displayed with unique suffixes, making them easy to distinguish. Not all tools are available for the MT4 trading platform.
In case of absence, traders can customize the instruments displayed in the trading terminal by selecting the necessary trading instruments in the "Market Watch" window.

Frequently Asked Questions
XM verification process
It is quite easy to verify your XM account. To do it after registration, pass the further steps below:
– Log in to the XM Members Area
– Click on 'Account' and select 'Upload Documents' from under the 'Profile' section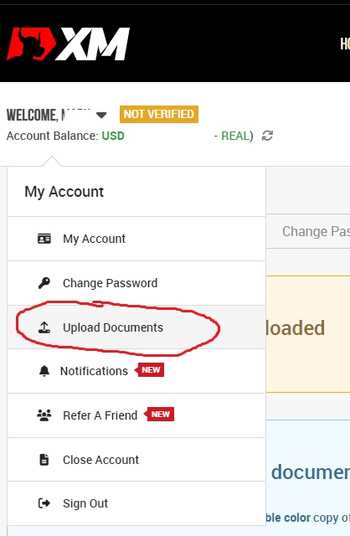 – From there, you can see which documents you still need to upload to verify your account. You should upload 2 documents:
A Proof of Identity (POI) – a colour copy of any official documentation issued by a recognised authority. It may be passports (to be valid for at least 6 months), driver's licenses, or identity cards. The document must include your full name, issue and expiry dates, your date and place of birth or tax identification number, and your signature;
A Proof of Residence (POR) – a copy of a recent utility bill (electricity, gas, oil, water, phone, internet, or cable television), or bank account statement (dated within the last 6 months)
– Upload documents and wait some time for approval.
What is XM minimum deposit?
The XM minimum deposit is only $5 for Micro Account, Standard Account, and XM Ultra Low Account. For XM Shares (Islamic) Account minimum deposit amount is $10000.
How to contact the broker?
Phones:
+357 25029933 (Cyprus)
+612 8607 8385 (Australia)
+501 223-6696 (Belize)
Mail Addresses:
Cyprus
12 Richard & Verengaria Street, Araouzos Castle Court, 3rd Floor, 3042 Limassol, Cyprus
Australia
Level 13, 333 George Street, Sydney, NSW 2000, Australia
Greece
Michalakopoulou 91, 3rd Floor, 11528, Athens, Greece
Official XM site:
https://www.xm.com
Customer support email:
support@xm.com
Problem with XM login
Simply log in to XM account using your registered email address or trading account details.
New users can then customize their XM profile and consolidate all their trading accounts under the same email address, eliminating the need to remember multiple trading account numbers and passwords. In just a few clicks, you can access all your trading accounts in one place.
If you encounter any intractable XM login problems, you should contact customer support at +357 25029933. To ensure the security of your account, you may be asked to answer some security questions for verification.
If you encounter difficulties logging in to the MT4/MT5 PC trading platform, try the following steps:
– Double-check that you have entered the correct MT4/MT5 account ID, password, and server specified during registration;
– Check your internet connection for providing a stable login;
– If the problem persists, consider rebooting or reinstalling the XM trading platform or mobile application.
If you continue to have problems XM logging in despite following the steps above, feel free to contact support@xm.com for assistance.