Best Roboforex Bonuses in 2023
1
Popular broker RoboForex offers 3 bonus programs, which can be used to get free money to a real trading account in 2023. These bonuses are available for receiving both by new and existing clients of the forex broker if they haven't received bonuses on other promotions before. Earlier, I've already reviewed their no deposit bonus in my review of the best no deposit forex bonuses of 2023. Now, I've prepared a brief overview of all bonus promotions from RoboForex, which are valid this year.
Welcome Bonus 30 USD
Every client of the company can get a welcome bonus of 30 USD to start trading. To do this, you need to register with RoboForex, verify your personal information, and then open and fund a Pro or ProCent account for 10 USD. You can use these real accounts for trading via MetaTrader 4 and MetaTrader 5.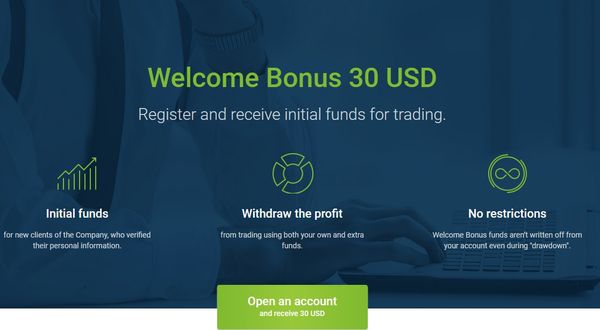 The benefit of this bonus for a trader is that you will be able to withdraw all profits earned from trading as on your own money and on bonus money. For example, you deposited your account for 10 USD and received Welcome Bonus 30 USD. Then you have made a 20 USD profit on your trading account. According to the rules of this bonus program, you may withdraw both your profit of 20 USD and 10 USD, invested at the start, without any additional commissions and obligatory turnover in trading lots of a certain volume, as stated in rules of similar welcome bonuses from most brokers on the market.
In this case, if at some moment your trading will become unprofitable, then your funds will be deducted from your account first, and the Welcome Bonus will be available to continue trading and restoring profit.
Profit Share bonus
Profit Share bonus increases the amount of the client's deposit by 60% after depositing in the trading account. The bigger the deposit will be, the bigger the potential profit will be due to the 60% increase of the trading capital.
Let's see 2 examples:
1. You deposited 1000 USD and decided to trade on EUR/USD, using 10% of the available amount of the trading capital. You open an order to buy 0.10 lots at 1.1863, then the price passes 50 pips and you close the order with a 50 USD profit.
2. You funded your account for 1000 USD and received the additional 60% increase in trading capital due to Profit Share Bonus. Now your account balance is 1600 USD. If you are still using 10% of the total amount, you trade the EUR/USD again and open an order to buy 0.16 lots at 1.1863. Then the price passes 50 pips and you close the position. Your profit from this order will increase now to $80.
Based on these examples, you can see that trading with Profit Share Bonus can generate more profit.
In addition, if your trading will bring losses, then not only your own money will be deducted from your account, but also part of the Profit Share bonus will be deducted too. This option is the undoubted advantage of this Roboforex bonus type. Thanks to it, you will lose less personal funds using Profit Share than you would lose without using the bonus.
To receive the Profit Share Bonus, you should register at RoboForex, verify your personal details, and open a Cent or Standard account at the MetaTrader 4 or MetaTrader 5 platforms. The bonus will be available on your first deposit into your real account.
Classic bonus
With the RoboForex Classic bonus, you can get up to 120% on the deposited amount and thus will increase the sum of funds for your trading. The total amount of bonuses, which may be credited to your account under this program, can reach 50,000 USD!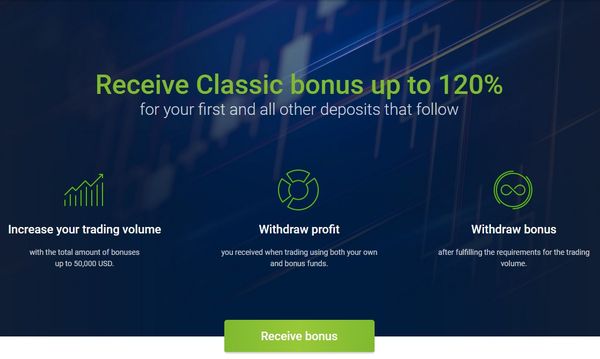 According to the rules of Classic bonus, you can withdraw profit from trading with your own funds as well as with bonus funds. However, the trading profit can be withdrawn only after you will trade a certain volume of lots. To know more about the required volume of trading turnover for withdrawing profits, please, visit the company's official website.
To get this kind of bonus, a trader needs to register at RoboForex, pass successfully through verification of his personal data, open a Pro or ProCent account on MT4 or MT5 platforms, and deposit the account balance with the desired amount of money. You may get the Classic bonus an infinite number of times within the limit of the total amount of bonuses on your trading accounts.