Grand capital no deposit bonus $500
0
Forex and binary broker Grand Capital offers one of the largest bonus among existing on the market – $500 on the trading account. Grand Capital has been providing financial, educational and brokerage services more than 10 years since 2006. I should say you that this bonus could not be withdrawn. You may withdraw only the profit after fulfilling all the conditions of the broker. So, follow further instructions to know how to get one of the biggest no deposit bonus at forex market.
To get this no deposit bonus from Grand Capital you should register at their site and open the trading account. To start you should go to official site of Grand capital (simply click on the banner below):

If you already have the account in Grand capital, then you should log in to your personal account through the official site. If you do not have, then go through the registration procedure. Do not worry, it's quick and easy: you have to input your first name and last name, phone number and e-mail address and confirm check that you are already 18 years old. Then you will redirected in your personal area (Private Office) at broker's site. Its interface looks like this (clickable):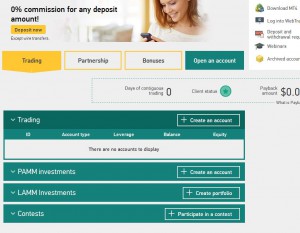 Here you may download last version of MT4 terminal, create a new account for trading or investments, view the existing promos from broker. Our aim is to open the bonus account "Welcome Bonus $500″. It can be done only once, so be careful. Go to the section "Bonuses" and you will find there the actual bonus list. It looks like this: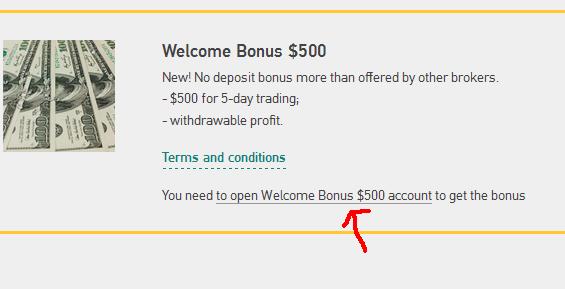 Here you will see links for confirming your phone number and passing document verification. Click on the first link. You will get to the security settings section where you may change the OTP-binding. It can be done in two ways: enter your phone number and receive SMS or download a special application (available for IOS, Android and Windows, 7/8).
Then, go to the next section – "Documents". Here you may pass the verification of your identity. Choose which id document you prefer to upload (identity documents, driver license, bank card with two sides) and fill in other fields. Make sure that file size is not too large and file format will be readable by the Grand capital's system.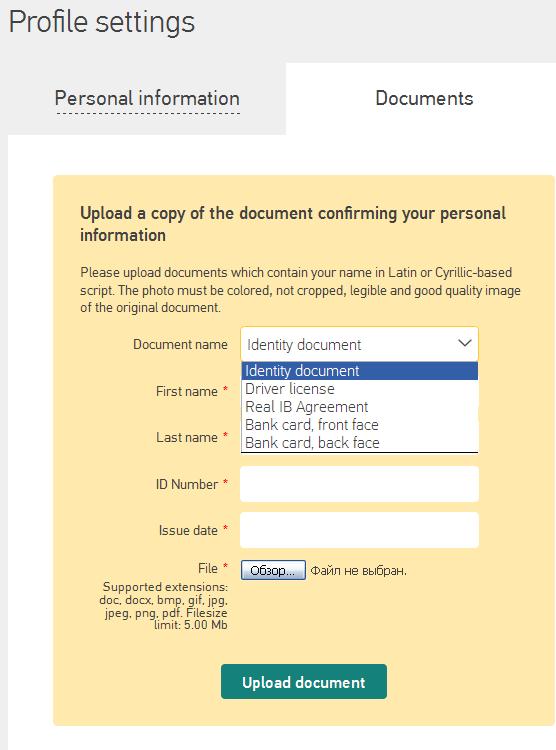 When the verification procedure will be completed, the special button "Get the bonus" appears in the "Bonus" section. You should click on it to open a special account "Welcome Bonus of $500″. This bonus account will be credited 500 dollars which can be used for trading during nearest seven days.
How to withdraw no deposit bonus of Grand Capital?
After opening the bonus account you have only seven days to trade on it. Deposits to this account and withdrawals from it are impossible. Trading conditions are similar to Standard account (about conditions for trading account – below), but the leverage can't exceed 1:100. After 7 days $500 will be deducted from the account balance. Only trading profit will stay at account balance. Bonus account type will change to the Micro, if bonus profit will be less than $100. Bonus account type will change to the Standard, if your bonus profit will be more than $100. For further work it is necessary to activate a new account. For activating you need to make deposit on amount equal to or bigger than your trading profit (but deposit amount has to be not less than $10 for the Micro accounts and not less than $100 for the Standard accounts). Without such activation (via deposit) all bonus profit will be charged off from your balance in seven days.
You may trade as usual at these types of accounts. Grand capital's terms&conditions for them are next (clickable):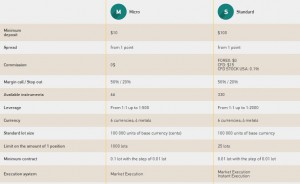 Withdrawal will be available only after completing certain amount of trading operations on the Micro or Standard real account: for every $5 of your profit made on bonus account, you must trade 1 lot for Standard account or 100 lots for Micro account.
After completing of the trading condition you should submit a request for converting your bonus profit into your own funds. To do this in Grand capital's private office, select "Support" – "Create a ticket" or simply send your request to the company's e-mail. Write in message subject: "$ 500 – no deposit bonus – the transfer of the ownership of a bonus". Do not forget to write your trading account number and your name. Support will review your application, check the possibility of fraud and approve your request, if everything is ok.
Pay attention to some additional conditions of receiving of no deposit bonus from Grand Capital:
You can't get other bonuses to your account;
Welcome bonus can be received only once;
You can not open an investment account, only trading;
You are prohibited to trade through proxy servers.
I hope these articles will be useful for you too:
If you liked my post, then you can easily subscribe on blog updates via RSS or via e-mail: