Free $100 for trading at FBS
5
Forex broker FBS has started a new no deposit bonus "Trade 100 bonus" in 2019. If you remember, they offered the "$123 bonus" promo in 2017, which was finished in January of this year. So, now you may try yourself with this absolutely free 100 USD. You may withdraw your earned profit from this bonus. Well, let's see what FBS has packed inside this offer.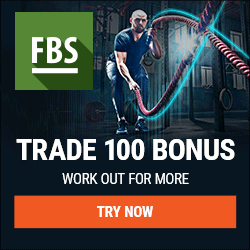 First of all, how to get this FBS Trade 100 bonus?
To get this bonus you should go to the broker's official site (click on the banner). On the registration page, you need to choose the next account type with the name "Trade 100 bonus". When the registration will be finished successfully, you need to install the MetaTrader5 platform. That's all, you may start your forex trading with this FBS free bonus.
Trading conditions and restrictions for Trade 100 bonus
– you may trade only via the MetaTrader5 platform, not MT4;
– you may open orders with maximal volume not more than 0.01 lot;
– at this "Trade 100 bonus" account the leverage will be 1:100;
– at the same time you may have not more than five opened orders.
– using this money you may trade only major forex currencies pairs and nothing more;
– in your trading you will be restricted in using such options as locking/hedging, expert advisors, Ladder strategy;
– the maximum profit, which will be available for withdrawal, is equal to $100.
How to withdraw bonus profit?
To make your bonus profit available for withdrawal from the bonus account you should fulfill the next conditions:
– you have only 50 calendar days for fulfilling the FBS Trade 100 bonus conditions.
– during these 50 days you should have not less than 30 days of active trading days. What means an active trading day at FBS? The active trading day is the day when you open or close the order.
– during these 30 active trading days the trader needs to close at least 5 lots or 500 orders.
– each of these 500 orders should be closed with the 100 pips (10 points) difference between opening and closing levels to meet the Trade 100 bonus condition.
Summarizing everything written above I must say, that it will be quite difficult to fulfill all the conditions of this FBS trade 100 bonus and to withdraw something from trading at no deposit bonus account. Of course, using this bonus offer, you will get the possibility to know the basics of successful forex trading and earn some trading experience or, maybe, even the $100 profit. But, if you are not interested in this bonus, then you may check the big list of new forex no deposit bonuses from other brokers at my blog. I am sure that you will find there such an offer which will suit all your wishes.
Good luck!