Today I'd like to present you a fresh Deriv review of 2023 which gathered all information you need to start safely with this famous forex/binary options broker: account types, broker's licensing/regulation, trading platforms, deposit and withdrawal conditions, Deriv investing apps, trading assets, leverage, minimum deposit, spreads, available Deriv bonuses, etc.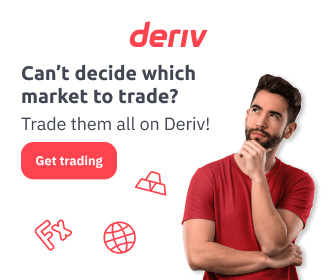 Who is broker Deriv?
Let's take a look back at archived records from the 1990s. There we will find the website BetOnMarkets. The betting platform, founded in 1999 as BetOnMarkets.com by entrepreneur Jean-Yves Sireau, initially provided online betting services for financial markets, allowing users to engage in speculative activities based on price movements. Over time, the platform evolved and expanded its offerings, introducing binary options trading in the 2000s. This feature allowed traders to speculate on the price movements of various financial assets.
In 2013, the company BetOnMarkets was renamed Binary.com, a name that was more in line with its focus on binary options trading. As part of its growth, in 2016, the company launched its own forex trading platform, Smarttrader bot, providing users with advanced trading capabilities. In addition, the availability of MetaTrader 5 (MT5) as an alternative platform has further enhanced trading opportunities.
In response to market demands, in 2018, Binary diversified its portfolio by introducing Contracts for Difference (CFDs), allowing traders to speculate on asset prices without owning the underlying assets. Building on two decades of operation, the company undertook a significant rebranding effort in 2020 and became Deriv.com. This rebranding was intended to emphasize the platform's evolution beyond binary options, highlighting its wide range of derivatives trading tools. As of 2023, Deriv.com continues to provide a variety of derivatives products, including binary options, forex, and CFDs, meeting the growing needs of traders and investors.
Today
Deriv
has grown into a global brokerage company. Deriv now provides services for more than 2.5 million traders who generate more than 110 million trades worth more than $10 billion each month. The broker conducts more than 26 million withdrawal transactions each month. Currently, the company has 18 offices and more than 1000 employees in different countries.
Is Deriv regulated and legal?
Deriv.com, a multilateral broker, operates under different licenses and regulations to provide trading services in different regions. Here is an overview of how the broker is regulated:
Deriv Investments (Europe) Limited
Licensed in Malta (license no. IS/70156) and regulated by the Malta Financial Services Authority under the Investments Services Act. It offers investment services in the European Union, allowing EU clients to trade financial instruments.
Deriv (FX) Ltd
Licensed by the Labuan Financial Services Authority (license no. MB/18/0024) in Malaysia. It offers forex and cryptocurrency CFD trading for clients worldwide, except for restricted countries such as the US, Canada, and Hong Kong.
Deriv (BVI) Ltd
Licensed by the British Virgin Islands Financial Services Commission (license no. SIBA/L/18/1114). Offers CFD trading on financial instruments and derived indices for clients worldwide, except for some countries.
Deriv (V) Ltd
Licensed by the Vanuatu Financial Services Commission. Offers CFD trading on financial instruments and derived indices for clients worldwide except in restricted countries.
Deriv (SVG) LLC
Located in St. Vincent and the Grenadines (company no. 273 LLC 2020). Offers trading accounts for clients worldwide except in restricted countries.
Deriv Holdings (Guernsey) Limited
This company is incorporated in Guernsey and acts as the holding and controlling company for the above subsidiaries.
In addition to regulatory oversight, Deriv.com provides various customer protection and security measures:
negative balance protection: customers are protected from losing more than their deposited funds.
segregation of funds: the broker keeps its capital separate from clients' funds to ensure their safety.
financial services compensation schemes: there are compensation schemes to protect clients in the event of a broker's insolvency, the coverage of which depends on regulators and jurisdictions.
Financial Commission Membership: Deriv is a member of the Financial Commission, which enforces the rights of traders.
custody of client funds: the broker uses financial institutions to store client funds, assuring clients that their funds will be protected even in the event of the broker's insolvency.
data protection and security measures: Deriv takes measures to protect traders' personal data and offers two-factor authentication for account security.
It is important to note that the regulatory framework and broker details may change over time. Traders should check the latest information on the broker's website and consult the relevant regulatory authorities before engaging in trading activities.

Deposit and withdrawal options
Deriv.com offers a variety of payment methods for depositing and withdrawing funds from trading accounts. Once you are logged into your Deriv account, you can see the payment methods available in your country of residence on the Cashier page. There are no fees, and the broker has no deposit/withdrawal fees or penalties for inactivity. Any commission in this case is only charged by your paying agent. There are no hidden fees detected.
Additionally, while deposits are usually processed instantly, withdrawal times may vary and can take up to 3 working days.
As financial regulations and broker offerings can change, I recommend visiting the Deriv.com site or contacting their customer support. There you may ask them for the most up-to-date and accurate information regarding payment methods, deposit and withdrawal conditions, and any specific requirements for your region.
Deriv deposit options and fees
Certainly, here's a breakdown of the available deposit options on Deriv.com, along with key conditions:
Credit/Debit Cards: Visa, Visa Electron, Maestro, Mastercard, Diners Club, JCB.
Currencies: USD, EUR, GBP.
Deposit Range: $10 – $10000.
Processing Time: Instant for all cards.
Note: Mastercard can only be used for deposits.
E-wallets: FasaPay, Neteller, WebMoney, PaySafeCard, Jeton, Perfect Money, Skrill, SticPay, Paylivre, OnlineNaira, Airtm, Astropay, Perfect Money, AdvCash, Boleto Bancario, and Trustly
Currencies: USD, EUR, GBP (Jeton is available in EUR only).
Deposit Range: $5 – $10000 ($5 – $1000 for Jeton).
Processing Time: Instant for all e-wallets.
Note: Skrill and Neteller offer loyalty programs for rewards.
Online Banking: Eps, GiroPay, Przelewy, Rapid Transfer, Help2Pay, ZingPay, Dragon Phoenix, PayTrust, and NganLuong
Currencies: USD, EUR, GBP.
Deposit Range: $25 – $100.
Processing Time: Instant for all online banking methods.
Note: Online banking methods allow real-time deposits and are specific to certain countries.
Cryptocurrencies: Tether TRC20 (tUSDT), Tether ERC20 (eUSDT), Tether Omni (USDT), Bitcoin (BTC), Ethereum (ETH), Litecoin (LTC), USD Coin (USDC)
Deposit Range: from $1
Processing Time: Instant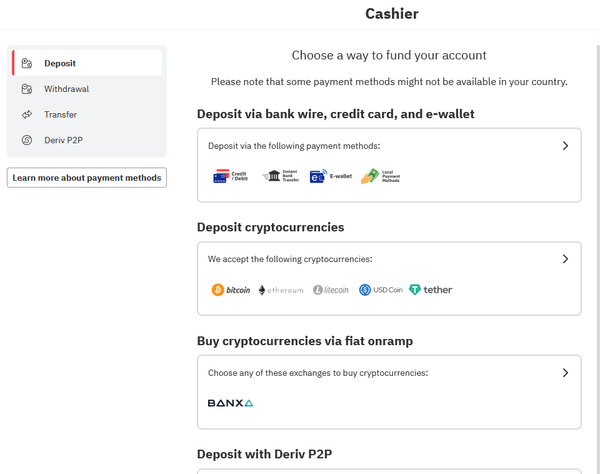 Deriv withdrawal options and fees
Certainly, here's a breakdown of the available Deriv withdrawal options, along with key conditions:
Credit/Debit Cards: Visa, Visa Electron, Maestro, Diners Club, JCB.
Currencies: USD, EUR, GBP.
Withdrawal Range: $10 – $10000.
Processing Time: 1-3 working days for Visa, Visa Electron, and Maestro withdrawals.
Note: Mastercard and Maestro's withdrawals are only available for UK clients
E-wallets: FasaPay, Neteller, WebMoney, PaySafeCard, Jeton, Perfect Money, Skrill, SticPay, Paylivre, OnlineNaira, Airtm, Astropay, Perfect Money, AdvCash, Boleto Bancario, and Trustly
Currencies: USD, EUR, GBP (Jeton is available in EUR only).
Withdrawal Range: $5 – $10000.
Processing Time: 1-3 working days for Skrill, Neteller, and Jeton withdrawals.
Online Banking: Eps, GiroPay, Przelewy, Rapid Transfer, Help2Pay, ZingPay, Dragon Phoenix, PayTrust, and NganLuong
Currencies: USD, EUR, GBP.
Withdrawal Range: $5 – $50000 (Not applicable for GiroPay, Przelewy, Rapid Transfer).
Processing Time: Not applicable for GiroPay, Przelewy, Rapid Transfer withdrawals.
Cryptocurrencies: Tether TRC20 (tUSDT), Tether ERC20 (eUSDT), Tether Omni (USDT), Bitcoin (BTC), Ethereum (ETH), Litecoin (LTC), USD Coin (USDC)
Deposit Range: $10 – $50000
Processing Time: 1-3 working days.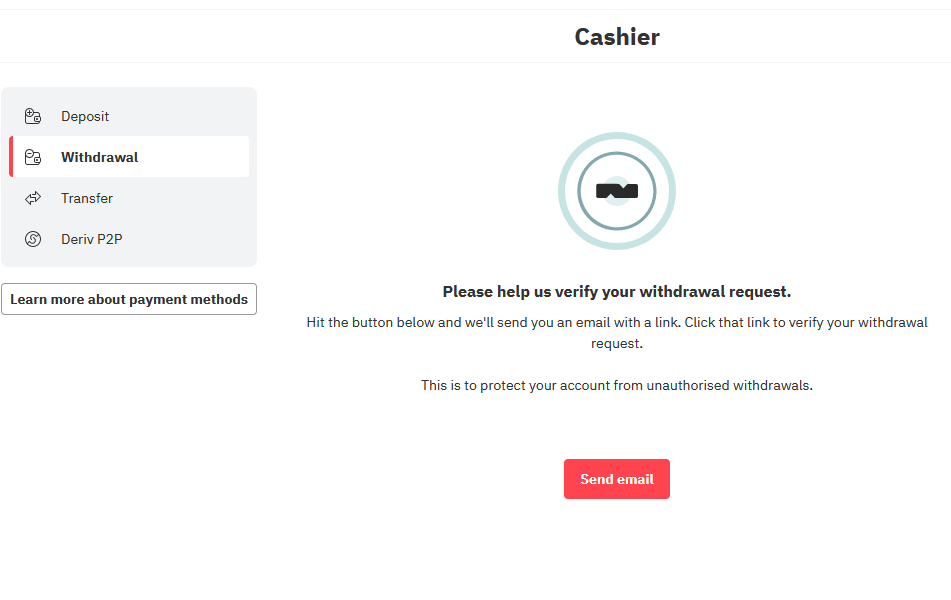 Your available payment method will only appear on the withdrawal page after you have made your first funding of the Deriv account. If you have made a deposit to Deriv but still do not see your payment method on the Withdrawal screen, it is probably because the payment method you used for the deposit cannot be used for withdrawals. In this case, you may need to use another payment method that also supports withdrawals.

Deriv trading platforms
Deriv provides its traders with access to a variety of trading terminals. Each platform has a different interface, functionality, and trading tools. Traders can choose from DTrader, Deriv X, SmartTrader, DMT5, and DBot. These Deriv terminals are available through web versions and mobile apps, allowing for seamless trading via smartphone. Traders are not limited to one platform. DTrader is the main trading platform. Deriv clients are able to use all available terminals for their trading operations. All trading platforms are provided by real-time signals.
DMT5 (Deriv MT5)
This user-friendly and feature-rich platform combines MT5 with comprehensive analytical and research tools. DMT5 is designed for CFD traders with a wide range of experience.
In DMT5, traders can personalize chart areas and trading areas as they see fit. Multiple trading windows can be open at the same time. Also, specific windows can be detached and moved.
Asset lists in DMT5 are easily navigable, offering an expanding selection of over 150 trading assets(forex, stocks & indices, cryptocurrencies, commodities, and derived indices).
Leverage in DMT5 is fully customizable up to 1:1000. The platform also offers a wide range of trade sizes, from micro lots to 30 standard lots.
DTrader (Deriv Trader)
The customizable DTrader platform offers a concise interface. In this trading platform, traders have a choice of over 20 tradable assets.
The charts in DTrader can be flexibly customized with technical indicators and widgets to fit the traders' requirements.
Trade types in DTrader are adaptable. Traders are offered a choice of position sizes starting at $0.35. DTrader features flexible trade durations from one second to 365 days. Potential payouts on a trade exceed 100%.
DTrader represents a significant step forward in trading platforms through optimal user interaction.
DBot (Deriv Bot)
The DBot trading platform is a leader in automated trading. DBot makes setting up algorithmic investing very easy.
Developing bots in DBot is free and requires only five simple steps. Such bots can be customized to work with more than 50 trading assets. Also from the start, DBot offers three ready-made strategies with a guide for new users.
A notable feature of DBot is the performance tracker, which allows you to make quick adjustments to improve returns.
Deriv X
You can open a choice of synthetic or financial accounts. The Synthetic account allows you to trade more than 20 synthetic indices with leverage up to 1:500. A Financial account allows access to trade over 90 instruments including cryptocurrencies, currency pairs, and commodities, with leverage up to 1:1000.
SmartTrader
Utilizes a single trading account available for currency pairs, indices, commodities, and synthetic indices.

Deriv account types

Deriv presents a standard selection of account types for both practice and live trading: demo and live.
Demo Account
The beginning of your Deriv journey starts with creating a demo account. This is the first step when registering for Deriv for new traders. The free demo account mirrors the real trading environment, allowing you to familiarize yourself with the platform's features.
You will have unlimited virtual funds with no time limit. No credit card information is required. You will only need to enter your email address. This demo account serves as a useful tool to perfect strategies and learn Deriv multiples without risk. You will also be able to pump up your trading skills.
Real Account
Deriv offers three types of live accounts with leverage up to 1:1000: Standard (Financial), Deriv MT5 (DMT5), and Swap-free MT5. Your geographical location determines the available account types according to regulatory requirements. For example, traders from the EU, South Africa, and Singapore have access to different account types according to regional regulations. Deriv's minimum spread value starts from $1. You will need only $5 to start your trading.
Deriv MT5 signals
Deriv gives clients the opportunity to trade on their own or make profits without actively trading. So, the platform offers functionality to make a profit without active participation in trading. Using DMT5 signals, traders can copy the successful strategies of experienced traders.
Deriv provides the ability to choose trading signal providers through the DMT5 platform. DMT5 will help both beginners and time-poor traders. Even without trading experience or time to analyze the market, DMT5 suggests simply selecting a provider and subscribing to their trading signals.
The process is very easy: users subscribe to professional traders, which leads to the automatic copying of trades on their trading accounts. Users are free to choose their trading signal provider. There are comprehensive statistics and information about signal providers for this purpose. Such a subscription to DMT5 signals is automatically renewed after one month.
Important notice: subscribers to DMT5 trading signals from signal providers cannot trade independently from their trading account.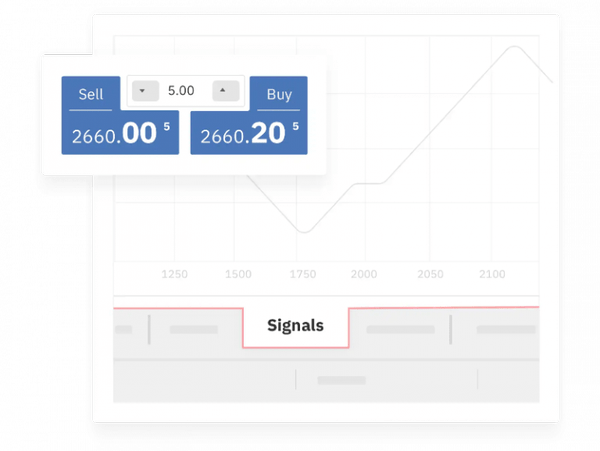 To subscribe to a DMT5 signal, follow the steps below:
Go to the "Signals" tab on the DMT5 platform.
Select a signal provider from the available list and click "Subscribe".
If necessary, change the trading and risk management parameters.
Useful services
Auxiliary trading services for Deriv traders:
Multiplier Calculator: this will help you estimate the level and size of stop loss and take profit for your contract. This way you can reduce your risk if the market price goes against your forecast.

PnL for Margin Calculator: you can estimate stop loss and/or take profit levels. It will also show the pip value for your contract to reduce the risk when buying or selling a position.

Pips Calculator: effectively manage your trading risk by calculating the pip value.

Swap Calculator: calculate the overnight rollover fee based on the swap rate. The fee can be either positive or negative depending on the swap rate.

Margin Calculator: Estimate the margin required to hold your positions. Leverage, volume, and account balance affect the margin calculation.
Deriv bonuses
At this moment, Deriv clients do not have the possibility to get trading bonuses directly from the broker. Some years ago Deriv offered different deposit and no deposit bonuses for registration. But all bonus offers had been stopped.
Deriv assets and markets
Deriv can offer many trading instruments(assets for trading): currency pairs, indices, stocks, cryptocurrencies, CFDs, commodities, synthetic indices, and digital options. It offers for trading more than 100 different assets:
Forex trading: over 30 FX currency pairs including major, minor and exotic currencies.
Stock indices: speculate on the price movements of US, Asian and European indices
Synthetic Indices: volatile synthetic indices, operating 24/7, replicating market conditions
CFD trading: gold, silver, oil and more
Cryptocurrencies: trade bitcoins (BTC) and other tokens (25+ tokens) for US dollars. 1:2 leverage available.
Options and multipliers are also featured. Deriv.com offers binary options and multipliers to diversify trading:
– Options allow you to profit through accurate price predictions without owning assets. Example: the Rise/Fall option profits if the exit point prediction matches the entry prediction. More than a dozen versatile options and payouts will fit a variety of strategies.
– Multipliers allow users to increase positions to maximize potential profits:
– multiple positions increase potential profits;
– risk is limited because traders cannot exceed the initial deposit loss;
– multipliers, like margin trading, offer flexibility and options.
Frequently Asked Questions
Get the answers to all possible questions about Deriv below:
How to contact Deriv?
There are some ways to contact Deriv:
– to write a message to the online chat, where the bot will help solve common problems;
– to post your problem in the Deriv community via https://community.deriv.com/.
– if you Deriv affiliate, then you may write to the broker's email marketing@deriv.com;
– of course, you may visit one of Deriv's real offices. The main offices' addresses are posted at https://eu.deriv.com/contact_us/.
Deriv alternatives for trading
The best alternatives to replace Deriv are Roboforex or Tickmill.
Deriv fees
Deriv does not charge any fees or commissions for depositing money into the account. There is also no commission or fees for withdrawing money from your Deriv account. However, please note that commissions may be charged by payment intermediaries through which you will deposit or withdraw money from your account.
What is Deriv's minimum deposit?
You can fund your Deriv account at least for $1. This minimum account funding threshold depends on the deposit method you choose. But to start trading, the minimum deposit to the Deriv account should be $5.
What is the Deriv maximum leverage?
The Deriv maximum leverage is up to 1:1000.
Deriv's affiliate program
Of course, Deriv has an affiliate program. At the moment there are three variants of the affiliate program offered for cooperation. Partner's income depends on the type of the program and the performance of the referred trader. For example, a monthly referral income below 20 000 USD gives the opportunity to receive a commission of 30%. Above the $20,000 threshold, the commission increases to 45%. Also refer new clients to Deriv to receive a one-time payment of $100 if two conditions are met: a $100 referral deposit and both participants (referral and affiliate) must be EU residents. Please note that this CPA program is exclusively for EU clients.
What is the difference between Deriv.com and Binary.com?
Deriv.com is an updated and renamed version of Binary.com. Binary.com has gradually transformed into Deriv.com with no access issues for traders. Binary.com users retained access to their Deriv.com account with their original credentials and logins.
Deriv restricted countries
At the moment residents of such countries as the USA, Canada, Hong Kong, Israel, France, France, Jersey, Malaysia, Malta, Paraguay, United Arab Emirates, United Kingdom, Spain, and Portugal will not be able to open a Deriv account.