Copy Trading via CopyFX
2
If you didn't know RoboForex has a special investment platform CopyFX, which allows people to subscribe to a successful trader and copy his orders on a subscriber's trading account. It's a traditional forex service of copy-trading.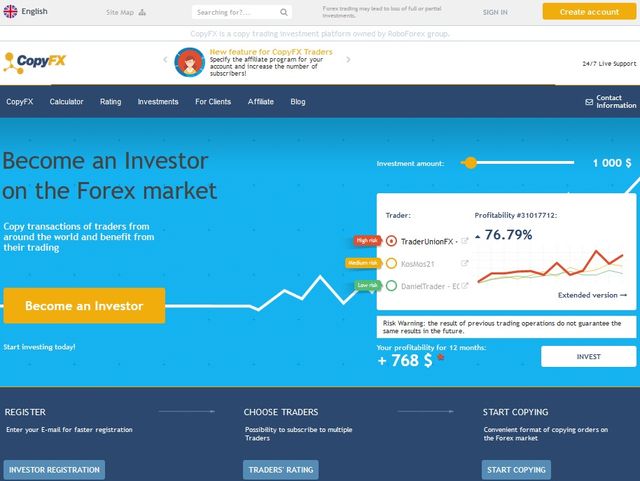 What is copy-trading from CopyFX?
If you haven't come across a service of this kind yet, here's a little introductory information about what an automated copy-trading service Copyfx is. Recently, the way of forex trading and investing built on the basis of copy-trading has become quite popular. It is based on copying all or some of the trading orders that are opened and closed by a more experienced or professional trader. Thanks to this functionality not only experienced traders at Roboforex can take part in successful trading on financial markets, but also beginning, non-experienced traders due to the possibility of copying the trading orders of professional traders with a proven track record and profitable trading. That is, for newcomers to financial markets who do not yet understand how the financial market works, what forces drive it, and have not had their own strategy for entering and working on the market, copying someone else's forex orders will not be so closer to the typical market trade, but more similar to an investment in a successful experience. But, for experienced traders, copy trading can be an interesting option for diversification on forex markets if they can receive signals from other traders with more profitable trading.
Copy-trading services have become a great alternative for investors who want to invest money to increase their own capital, but don't have much time or trading experience to trade on their own. Thanks to copy trading platforms many traders have been able to successfully invest their own money, improve their market analysis skills and earn on forex with little effort even without having the knowledge of how to conduct technical/fundamental market analysis or apply the forex signals they receive.
There are many communities of copy traders in social networks and on specialized forums, who share their forex strategies and tactics for investing in copy trading, which allows them to increase the profitability of their work in this direction. After all, for the copy trader, it is very important a base understanding of the process of selecting and filtering traders, whose trades will be copied. CopyFX from Roboforex offers all the necessary tools for this, and in no way inferiors to other offers on the financial market.
To start using CopyFX for investing and earning, you should choose the role of investor or trader. These are two completely different roles, although the same user can be both investor and trader. An investor CopyFX is a user who chooses and copies into his trading account the trading orders of his chosen traders for a fee or profit share. Trader CopyFX is a member of the traders' CopyFX platform trading on his account and sharing its trades with investors for further copying these trades for a fee in the form of commission or profit share. To get the maximum income at CopyFX, you can choose both roles to work with the system and successfully combine them.
How to become a CopyFX investor?
The role of an investor in copy-trading is attractive because you do not need to know all the intricacies of Forex and other financial markets to make a profit – all you need is to choose the right trader with high profitability, without critical drawdowns, and then automatically copy his positions via CopyFX. When the trader makes a profit on his orders, the investor also receives profit at his trading account.
The platform has a flexible subscription system that allows the copy-trading investor to control every stage of investment and sharing of funds. The investor at CopyFX has access to all the statistics on transactions at his forex account, and the trader's subscription can be stopped at any time.
The CopyFX presents on the website the Rating of traders for investing, so it's quite easy to choose the most profitable of them. You can use a special filter system to select the most suitable traders according to your criteria (profitability, account age, maximum drawdown size). In addition, you can subscribe to several traders at once, if you have enough funds on your forex account to copy all the positions they may open.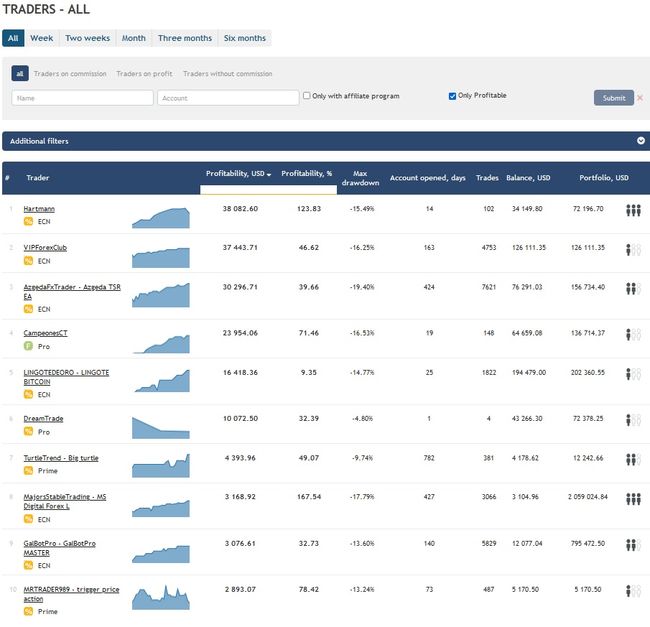 The big disadvantage of such a system for copying trading positions is that all opened orders of a trader are copied to your trading account – both profitable and unprofitable ones. Do not forget about it. Although traders' commission will be charged only for profitable trades, you need to choose traders for copying and set the copying modes carefully for reducing the risks of losing your funds.
So, to become a CopyFX investor, you need to register on RoboForex, open any trading account, deposit it via the MetaTrader 4 or MetaTrader 5 platform, choose the interesting trader and start copying his trading positions by subscription activating. All profits earned from copying, except for fees paid to the trader, will remain in the investor's trading account.
How to become a CopyFX trader?
If you successfully trade in financial markets and want to share your knowledge and experience for a certain fee, then registering as a CopyFX trader will become a great opportunity to get extra income for your usual trading without any extra workload.
The platform provides 2 types of fees for copy trading:
– you can receive a fee for each trading position copied from your trading account and then closed with profit,
– you can receive a percentage of the investor's total profit for every trade copied during the subscription period.
A trader can also start to work as a CopyFX trader without any fee from investors, using a strong competitive advantage to attract new subscribers – no fees for copying its trading positions.
How much does a CopyFX trader earn?
Depending on the selected fee scheme, the Copyfx trader sets the amount of his remuneration by himself:
If the scheme "On fee" is selected, fixed payment for profitable orders is set – from 1 to 10 USD per order.
If the scheme "On profit" is selected, the percentage remuneration from the investor's profit is set – from 5 to 50%.
So, to become a CopyFX trader, register on RoboForex's website, open any trading account and deposit it, then set the subscription terms for investors and start trading. The results of your trading activity will be shown in the CopyFX rating, where potential investors will see them. The higher your profitability is, the more subscribers (investors) you will be able to attract and the more money you will get for forex trading as an additional income due to a fee from subscribed investors.