How to purchase premium gold account on Depositfiles?
20
Last time, when I looked at blog statistics, I saw there many people, which came to my blog from search engines, being interested in that how to purchase premium account or Gold accounts on such file hostings as Depositfiles, Filesonic (ex-Sharingmatrix), Hotfile, Oron.
Some people may ask me for what they should purchase a premium account or gold account on file hostings? Let me explain. It something like with free bonuses. For example, do you know about the possibility to get forex free bonus without deposit and to use them for trading without any risk? Hah? Well, with filehosts it's the same. If you wish to download file from file hosting on maximum speed, you need to purchase a premium or gold account. If you have the file host premium account then it will allow you not only to save a lot of time, but will also allow you to access more advanced search capabilities at files hosts. With files host premium account you will be able to download as many files as you wish at maximum speed.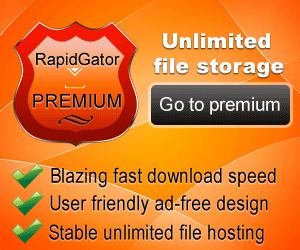 If you have a free account at file hosting, you could download files only with low speed limits and under connection limits. Without having a Gold account you will be able to download 1 Gb file or even less from files host during the 24 hours or even can't download such big files at all. It's so boring and time wasting. But if you purchase gold or premium account on file hosting you could be able to download any number of files in a couple of minutes without any limits.
So, I decided to write small review of main files hosts offers for that people that wish to purchase premium or gold account on files hosts and to help them in their discoveries.

Depositfiles Gold account with discount
So, next for review, the
most famous file hosting Depositfiles
. If you wish to buy gold account depositfiles and become depositfiles Gold member, you need to go the page
depositfiles.com/en/gold/payment.php
. Just click the banner below:

Then you see the deposifiles page, where you could insert your discount code coupon(it already inserted in the link under deposit banner) on depositfiles gold and buy gold membership with 10% discount: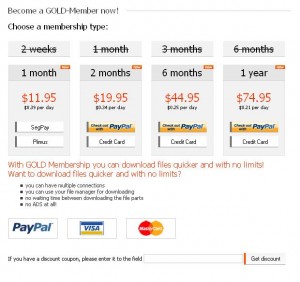 So, choose here the membership type, choose the way for payment and click. After this you should insert your payment information. When your payment for depositfile gold will be succesfully finished, you received a new depositfile gold account login and password, sent to you immediately after order confirmation.
Well, if you wish to purchase Depositfiles gold on 6 or 12 months you can use the 10% discount coupon code to save your money. It will give you the chance for cost reducing on 5-8 dollars. Take the coupon for depositfile gold discount in the right upper corner of this page (red colored text). Insert this code oedqt4r8koyzozg19ghqmqt64ee6dbr5 below of the Depositfiles page on depositfiles.com/en/gold/payment.php and click the button "Get discount".

Purchase premium Hotfile account
And at the finish of today post I'd like to tell you about how to buy a premium Hotfile account. Hotfile is so popular that you may meet links for downloading from Hotfile on each 10th site in the world. And, many people like to know how they can buy a Hotfile premium account. Well, to buy a premium Hotfile account, firstly, you should register on Hotfile. Use for registration on Hotfile link right on this page. After finishing your Hotfile registration you should go to the Hotfile Premium page, clicking on the banner below:

After that, premium Hotfile page will be opened in your browser. It will be in such view:

On this page you, as always, choose Hotfile premium upgrade plan and the way of payment for upgrade and click an appropriate button. As you see, you may pay for Hotfile premium via Paypal, Alertpay or Credit cards. After clicking on the appropriate payment button, you should fill your payment information in the form for paying for the Hotfile premium account. When you will finish your payment, your premium account will be activated and, congratulations, you became Hotfile premium user.
By the way, there is another variant for buying a Hotfile premium account. If you earn enough money as Hotfile affiliate, then you can spend it on Hotfile premium account. To do this you should simply go to this page hotfile.com/purchase.html: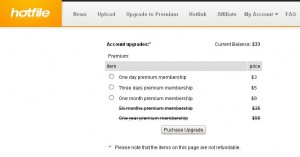 After choosing the type of your Hotfile membership, you should click the button "Purchase upgrade". That's all. You will receive your Hotfile premium membership.

Buy Filesonic premium accounts
Now, let see how to purchase a Filesonic premium account. First of all, I recommend you to register on
Filesonic
(ex Sharing matrix), if you have not still registered there. For registration on this sharing service you may use the Filesonic registration link in the right column on this page. After registration you should login to your account. But if you want to skip registration step, then you should simply go to the Filesonic Premium page, clicking on the banner below:

The Filesonic Premium page, which will be opened after clicking on banner, will be in such view: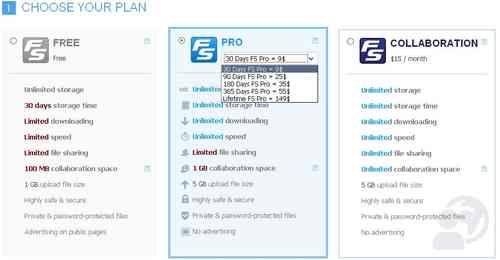 Firstly, you need to choose a suitable Filesonic plan for you. As you see, you can buy a Filesonic premium plan on 30, 60, 90, 365 days and even lifetime plan. Every premium plan has a different days cost. In the 30-days premium plan the cost of 1 day will be $0.30. In a 1-year premium plan the day will cost only $0.15. If you will choose to buy a Filesonic lifetime premium plan, then you can save the biggest sum of your money in the future.
So, if you chose the Filesonic premium membership type, then you should register an account for using of this plan. See, below after the form with Filesonic plans there will be the form for registration new account: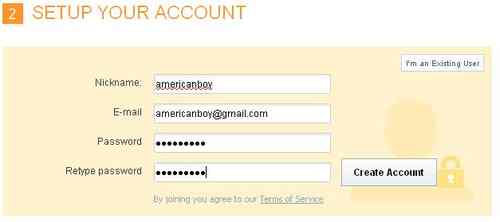 If you still don't have the filesonic account then you need to input your nickname, email and password for account registration. If you input correct all data, then click on the "Create Account" button. It will take some seconds for account creating. After that you will be able to pay for the Filesonic premium account. There will be available next form with "Payment Method":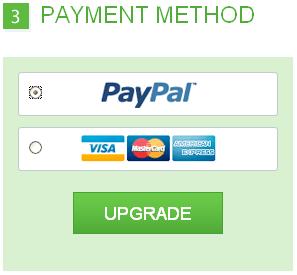 Look, you may pay for filesonic premium only via Paypal or via credit cards. So, choose a suitable payment method and click on the "Upgrade" button. After a new window will be opened you need to input your payment information and click on "Complete this transaction". When filesonic premium payment will be successfully finished your Filesonik premium account will be activated instantly.
Repeat once again: think about purchasing a Filesonic premium plan for 180 or 365 days it gives you the possibility to save a big sum of money from $19 till $53 in depending on your filesonic premium type! But the best way is to buy Filesonic lifetime premium account. With it you may save the biggest sum of your money without paying additional money for its rebilling in the future.

How to buy Oron premium account?
Well, next quite popular and very useful file hosting is
Oron
. Oron became very popular files hosting during last year because of its reliability and safety. So, if you need to purchase an oron premium account you should, firstly, register the Oron account as a free user. So, click on the Oron premium link right on this page. After your registration on Oron you should go to the Oron upgrade page, clicking on the banner below or, if you don't like to register previously, then simply click on the Oron banner:

You will be redirected to the Oron premium page of such view: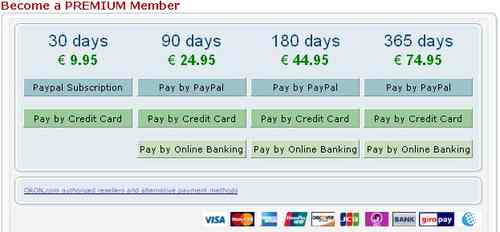 On this upgrade page you should choose the Oron premium upgrade plan. As you see at the premium page, you may buy premium membership on different terms: 30, 90, 180 and 365 days. The cheapest premium membership costs 9.95 euros. So, in such case, the cost of one day will be 0.33 euros. In the maximum Oron premium plan the cost of one day will be 0.15 euros. So, if you will choose 1-year premium membership then you will be able to save 0.15 euros each day of using the files host.
Well, for payment for your Oron premium membership you may use Paypal, Webmoney and Credit Cards. So, choose the necessary premium Oron membership and click on the button of the appropriate payment system. Then you will be redirected to the payment host. There you should fill your payment information in the form for paying for premium account oron. After finishing your payment and receiving money by Oron, your premium membership will be activated. You will become an Oron premium user.
As you see, to become the Oron premium user is quite a simple process and you only need some money. Oron premium membership gives you great opportunities for downloading files from Oron.
So, I repeat, that with a premium account at file host you may have multiple connections, use your file manager for downloading without waiting time between downloading the file parts and all ADS will be removed at all! Hope, you understood for what you need Gold account on files hosting. Or, by the way, if you plan to earn on files hostings, from the beginning you need for stable work to purchase a premium account on file hosting. Why? In the beginning, when your files will be downloaded less than 1 time in a month, files hosts will delete it after 30-60 days without downloading by users. But if you purchased a premium or Gold account, your files will be kept on file host eternally.
So, as you understand from this article, buying premium membership or gold account at file hostings is quite an easy process. All you need for this are some money, some attention to purchasing details and, of course, you should realize why you want to purchase a premium account at files hosting. You should consider your budget and the time for which you would like to buy a premium account. Of course, it's important to compare the prices for different periods.
So, once more, you should pay attention that the purchase of premium account for a longer time may save some of your money.
Good luck!