Fileserve – $25 per 1000 downloads!
8
Hi, all!
Today I want to tell you about file sharing service which is called Fileserve. Well, it's already working about 6 months on the files hosts market. From the start of Fileserve, to be honest, I didn't believe that they can work stably for a long time. But months have gone and Fileserve is live and works. So, I decided to try this files sharing service and I understood that service is quite good for earning on files downloads.

So, what does Fileserve offer?

* Country Groups:
1. United States, United Kingdom, Canada
2. France, Germany, Spain, Portugal, Italy, Denmark, Sweden, Switzerland, Netherlands, Norway, Ireland, Finland, Australia, New Zealand
3. Russia, Austria, Poland, Romania, Hungary, Czech Republic, Belgium, Latvia, Estonia, Lithuania, Luxembourg, Slovenia, Slovakia, Cyprus, Sierra Leone, Liechtenstein, Bulgaria, Greece, Turkey, Iran, Japan, Singapore, Malaysia, South Africa, Qatar, Bahrain, Kuwait, Saudi Arabia, United Arab Emirates, Brazil, Oman, Malta, Gibraltar
4. All others
To be counted and paid on Fileserve, your file must be bigger 1 Mb. As you see, Fileserve counts and pays downloads from all countries around the world. It's very interesting for earning. Some days ago, I've received free freshforex no deposit bonus and earn 40 USD, living in one country and making money in other place. Fileserve allows unlimited downloads for anonymous and free users. All these downloads will be paid, so Fileserve affiliates can maximize their profit for each file on Fileserve. For example, if an anonymous user will download six files from your account, so it will count 6 downloads. The main thing for Fileserve is that anonymous IP is unique for each file. If one file will be download from 1 IP, for example, 4 times during 24 hours, so it will be counted like 1 download. But, as I've read earlier, if from 1 IP 6 your files will be downloaded, so Fileserve will pay you all 6 downloads of your files.
By the way, as you see, files host Fileserve doesn't link their payout rates to any levels, ranks or ratio. So, you can earn on files bigger 450 Mb, which are downloaded from USA and UK, $25 per 1000 downloads. It's real payout rates. I tried to work on Fileserve, uploading big files and posting on forums. Well, what I can say, my average rate was $20.43 per 1000 downloads. You can say that it's less than promised $25 per 1000. But! More downloads of my files were counted on Fileserve in comparing with Hotfile, Depositfiles or Uploading. Fileserve doesn't have any ratio like Hotfile or Uploading. Of course, Fileseve's not so good as Oron or Filesonic if you prefer to earn on premium sales.
Although, Fileserve rates are slightly less than Filesonic download rates $30 per 1000 downloads, but Filesonic now works ugly, so people may try to earn on Fileserve like alternative of Filesonic. By the way, you may try to use both Filesonic and Fileserve in depending on your file size and traffic.
Files host Fileserve offers good conditions for working. They have easy, quick FTP for uploads and remote upload tool from other file host accounts (see below).
By the way, Fileserve offers the incentive program for websites owners. If you have website, so you can earn 5% commissions from all Fileserve premium accounts sold via your websites, blogs or forums. No matter the download links are yours or from other Fileserve users, if anyone, visiting your site, will buy premium Fileserve account, so you will get 5% of the selling price of fileserve premium.

Fileserve minimum payout is only $20. Well, you can earn this sum for only 1000 downloads of your files. It's simple! Fileserve pays via PayPal, ePassporte and WebMoney. If you have $20 on your balance, then you may request payout. Fileserve approves all requested payments every Monday and finishes payouts thereafter within 2 days.
So, if you wish to try Fileserve, then just click on the banner of Fileserve. Register, upload your files and earn $25 per 1000 downloads!
By the way, I'd like to give you the small guide for using Fileserve remote uploading tool. It can save some time and money for you in future. I used for this guide remote uploading from files host Mediafire to Fileserve account:
1) Take mediafire link on file which should be uploaded remote to Fileserve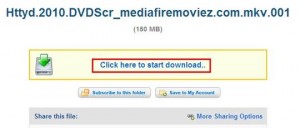 2) Then mouse right click on "click here to start download" & select from option list "copy link location" as explained on picture below: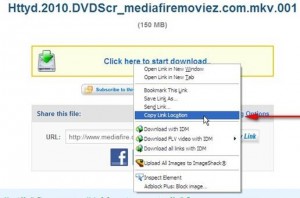 3) When all will be done then you'll get the mediafire url which will look like this –
download171.mediafire.com/97yyob1fgheg/vfhs83fpw0uw7dc/Httyd.2010.DVDScr_mediafiremoviez.com.mkv.001
4) Well, now you should enter your Fileserve account and select remote upload option

5) When Remote upload option is selected, then paste your mediafire url in uploading form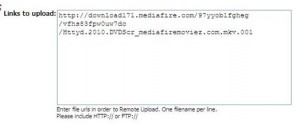 6) Well, click on upload button. Mediafire link will be added in queue for remote uploading to Filecerve. In a few seconds files from mediafire will be uploaded to your Fileserve account and you can see them listed on your My Files page.
7) So, remote upload to Fileserve has been finished. All you need further is to post your Fileserve links on different sites and forums. To receive Fileserve links of the files for posting on forums and sites you just should select them and Fileserve will provide you with the links to the files: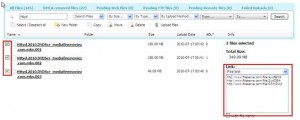 Good luck with Fileserve!