It's happened again! This week Filesonic announced start of new promo with incentive bonus. New April promo from Filesonic was called Fiesta.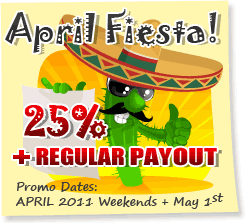 In the prologue to the announcement of Fiesta the administration of files host gave intriguing promises to announce some more stunning news in the nearest future. But at the moment, Fiesta from Filesonic is quite stunning news for all affiliates.
The conditions of new Filesonic promo are very simple. You will get 25% additional bonus from Filesonic to your regular payout every weekend during April, 2011. For example, you will make $200, then you will get $50 as a bonus. So, in total your will earn $250. Quite simple, hah?
Well, Fiesta promo days will be:
* 09th + 10th April
* 16th + 17th April
* 23rd + 24th April
* 30th April + May 1st
Yes, yes, yes, we should work hard at weekends again. But, with such bonus money I'm ready to work all my weekends! Let's think, during the next 4 weeks we will have in total the 8 promo days. If you multiply the number of promo days on the bonus value, then you'll understand that during Fiesta promo you'll get your 2 days files host earnings as an additional bonus.
If you did not receive Filesonic bonuses before, I remind that after finishing the bonus weekend you can see the bonus amount in your account statistics in the right column. Do not forget, you should click on the Fiesta bonus sum and input all necessary data or you'll miss your bonus.
By the way, the first Fiesta promo weekend almost ended, but it's not too late to take part in it and to post something today. How do you think? So, it's time to go to earn bonuses!
Well, do not forget to look at PlaySonic in the nearest days. Filesonic promises that new missions and rewards will be available soon.
For those, who have not yet registered at Filesonic, I remember, that the Filesonic registration link is situated right on this page.