Forex contest MoneyFall from ForexMart
115
ForexMart Company invites you to take part in weekly contests "MoneyFall" conducting medium Demo accounts. The prize fund is 2000 EUR! It's a real prize money in free demo contest!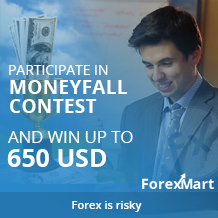 If you'll become one of the winner in this contest then you may get for the:
1st place – 650 EUR
2nd place – 500 EUR
3rd place – 300 EUR
4th place – 200 EUR
5th place – 100 EUR
ForexMart holds contest every week from Monday 00:00 to Friday 23:59:59 (terminal on time). Registration begins for 1 week and ends 1 hour before the start of the contest. Results of the contest you can find on the following day, namely on Saturday at 12:00 GMT +3.
The main conditions of the Forexmart Contest "MoneyFall" :
1. By registering in the Contest, the participant gets access to the demo account
2. 5000 EUR – fixed initial deposit
3. By default, the leverage is 1: 500
4. ForexMart Company does not limit the use of advisers, as well as the choice of a trading strategy
5. The competition is only the major currency pairs and cross rates
7. The minimum transaction volume is 0.01 lot and maximal – 1 lot.
8. Stop-out level is 10%.
Announcement of the winners of the Forexmart Contest "MoneyFall":
1. In the end of the competition all transactions closed at current prices automatically
2. Participants with the highest balances are declared winners
3. Within 30 days after the publication of the results the winners have to open and verify the real trading account, which will be credited to the prize money.
ForexMart wishes you good luck, register and win!
Link to Contest page: www.forexmart.com/forex-contests/money-fall
I hope these articles will be useful for you too:
If you liked my post, then you can easily subscribe on blog updates via RSS or via e-mail: