Double payouts from Filesonic!
0
$5 Filesonic promo was not so long ago and this Friday Filesonic announced new exciting promo day for their affiliates.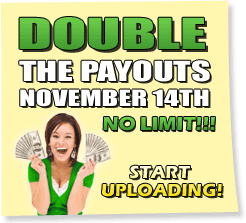 So, as files host Filesonic promised earlier, they continue their promo series. Try new Filesonic promo! What is under wraps? Well, first of all, new promo day on Filesonc will be the 14th of November 2010! What should we do? Nothing additional job! Only upload files and post links! After that you will need to send your request on promo bonus and take this bonus, which will be equal to your files host earnings in promo day. It is very simple and everyone may benefit from it. For example, if you will earn on Filesonic $50 on the 14th of November, then files host Filesonic will give you additional $50 bonus the week after this promo! You summary earning will be $100! Or even simpler explanation: this promo means that you will earn up to $60 per 1,000 downloads or 120% per Filesonic premium sale, generated from your links!
So, don't waste your chance to double your Filesonic payout on promo day!